Digital Biothesiometer - Item Code: VIBROMETER

Digital Biothesiometer - Item Code: VIBROMETER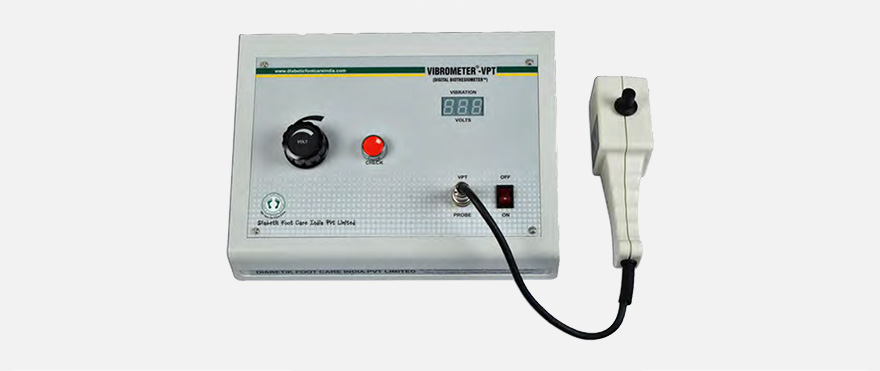 Vibration Perception Threshold (VPT) has been shown to be strongly associated with foot ulceration. VPT determination by using Digital Biothesiometer Vibrometer has been used to identify peripheral sensory neuropathy and subjects at risk of foot. Digital Biothesiometer helps us quantitate the threshold and monitor progressive changes or trends on following up testing.
Sensory neuropathy increases the risk of foot ulcerations by seven folds and peripheral arterial disease (PAD) by three folds in people with diabetes. Peripheral neuropathy is the major causal factors in the development of foot ulcerations among diabetic subjects. Early detection helps better prevention. Prevention is better than no cure. 50% of all non-traumatic amputations occur in diabetes who is a high-risk group.
We are the first company in India to introduce the Digital Biothesiometer in the Indian market as early as January 2003. This model is working in as many as 34 countries. Vibrometer is an upgraded model with more feature.
Worldwide this model is well accepted and has connectivity to computer using USB and Bluetooth. This device gets connected to Windows 7/8/10 operated computer and an Android mobile or Tab. The software helps to transfer the data for storage and colorful patient report generation. The software has two different testing methods for the diabetic foot and have screening procedure to test the palms for neurological disorders and penile impotence.
Additionally, the software has provision to design your own custom report format.
Finally, many national and international scientific papers have mentioned this model in their scientific publications.
Features:
Full solid-state design with PC connection
Easy tool to quantify neuropathy
Portable Vibration sense
Digital 0 to 50 Volts indicator
Remote key on probe transfers the data to PC
Vibration Check key to confirm result
First Indian model with Software
Windows software helps to produce Plantar foot report, Ankle Report, Palm Report, Penile Impotence Report and a Custom Report
Hospital Header and logo design facility for letter head
Built-in software to test monofilament testing
Connectivity to Computer through USB(plug & play) and Bluetooth
Supports Windows 7, 8 & 10 operated computer
PDF printing & Export of data is possible
Data Backup & Retrieval
Android connectivity for mobile and Tab
Products tested by International accredited test lab for safety, EMI/EMC
Weighs less than 3 Kg
Largest exported product from India
230V, +/- 20%, AC, 50Hz Mains operation
110V, VC, 60Hz option for other countries
Product Catalog:
Product Catalog:

Digital Biothesiometer - Item Code: VIBROMETER